Lauer-Love Monuments
Local Service Since 1965
Lauer-Love Monuments has been serving Nemaha County, Kansas and southern Pawnee County, Nebraska with customized service since 1965. Since we only operate locally within about 45 miles of Seneca, Kansas we are able to provide more customized service and utilize locally made cement for pouring foundations.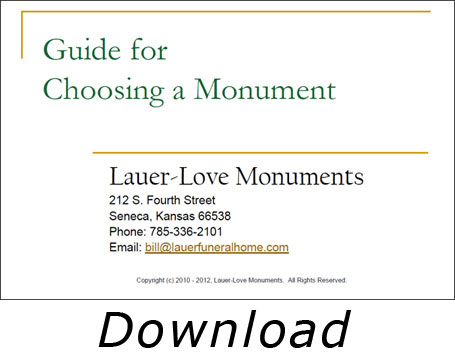 Quality Granite in Variety of Colors
Not all granite is equal. Different quality granites have different grains that affect its durability and appearance, and different lusters that affect its aura and beauty. We use only top-quality granite, available in a variety of colors from traditional grey, to alabaster white, to stately black, to delicate pink, and many other colors and mixes of colors.
Custom Installation
Key to a long-lasting monument is a durable cement foundation. All of our installations use the best locally made cement poured as a single piece into a hand-dug foundation. We do not use two-piece foundations or prefabricated concrete blocks. Over the years, single-piece foundations resist sliding and shifting of the ground better than multi-piece foundations, offering the most stable and long-lasting option for anchoring your monument for posterity. Hand-dug foundations with one-piece cement pours also allow deeper foundations for certain large monuments, so the foundation is customized to fit the size of your monument.
Size & Shape Options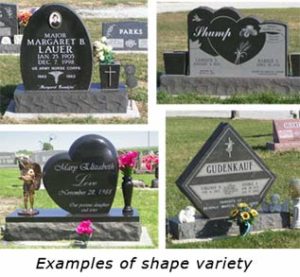 We offer monuments in a variety of sizes and shapes, from simple square Examples of monument shapesblocks, to wedges, to upright contoured rectangular shapes, to benches, to more fully contoured stones such as heart-shapes and other creative possibilities. If you have some idea for a shape, check with us and we will do our best to get our granite sculptors to comply. See our sample books for photos of creative monuments that have been done for other people to give you some ideas.
Engraving Options
We offer engraving in any style you like, from plain to ornate to custom styles. Our engravers can even match existing styles if you have other monuments in your family plot that you would like to match. Engraving can include both lettering and symbolic artwork important to you and your family, such as a depiction of the family farm, a symbol of profession or favorite hobby, a symbol of marriage, an icon from your religion, or anything else of significance to you.
Vases
Fresh flowers can beautify a monument on important memorial days. You can make flowers an integral part of the monument by having vases as part of the installation. Some monuments are designed with built-in vases; otherwise you can accessorize with add-on vases. We offer a wide selection of vases from matching granite to metal.
Ceramic Photos
A color photo of your choice can be rendered and baked onto porcelain and mounted onto your monument. A bronze frame is optional.
Laser-Etched Photos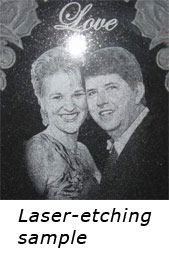 Laser-etched samplePhoto images can also be laser-etched directly onto the stone. Only available for black color stones.
3-D Effects
Monuments can have 3-D effects by adding bronze relief sculpture items, such as religious icons, flowers, etc.
Download Our Guide to Monument Purchasing
See our downloadable guide to choosing a monument for detailed options on what is available.
Make an Appointment to See Us
For more information and to make an appointment to see us, contact Bill at 785-336-2101 or email bill@lauerfuneralhome.com.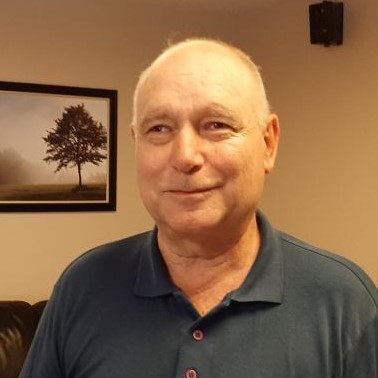 12/14/1954 - 11/20/2023

Centralia, Kansas
Philip "Toby" J. Tangeman, 68, of Centralia, Kansas lost his battle against cancer on Monday, November 20, 2023 at Eastridge Nursing Home in Centralia.